When ranking the greatest golfers, it can be hard to decide on which basis we define "great." After all, to be great can be pretty subjective. A characteristic that one person believes makes a particular athlete great could be of little importance to another person. Sometimes it all comes down to our personal preference.

In this article, we've compiled a list of what we believe to be the top ten greatest golfers of all time. This list is based not only on our personal preferences, but also on the statistics, winnings, and trophies the players have earned throughout their careers. The list includes famous golf players and famous PGA golfers.
10. Gene Sarazen
Gene Sarazen had been winning professional titles since 19, way back in 1922. Throughout his 40-year run, he would win 38 titles including, two U.S. Open titles (1922 and 1932), three PGA Championships (1922, 1923, and 1933) a British Open win (1932). Within 66 years, a mere four players – Tiger Woods, Gary Player, Jack Nicklaus, and Ben Hogan – have been able to join him in his stature.

Sarazen is famously remembered for the shot he made at Masters, 1935 when he went up against Craig Wood. He was 220 yards away from the flag, standing in the 15th fairway.

Peers recall him asking his caddie, Stovepipe, whether he should play it safe or not. When Stovepipe encouraged him to go for the hole, he did so indeed. Sarazen managed to hole his shot for a double eagle. What proceeded was a winning playoff against Wood.

This one-shot, as well as the invention of the sand wedge, are why we've ranked Sarazan number ten on our greatest golfers list.
Statistics
7 major titles and a career Grand Slam
38 career PGA titles
Inventor of the sand wedge
AP Male Athlete of the Year, 1932
28 holes in 100 strokes at the U.S. Open, 1932
Struck the "Shot Heard Round the World" at Masters, 1935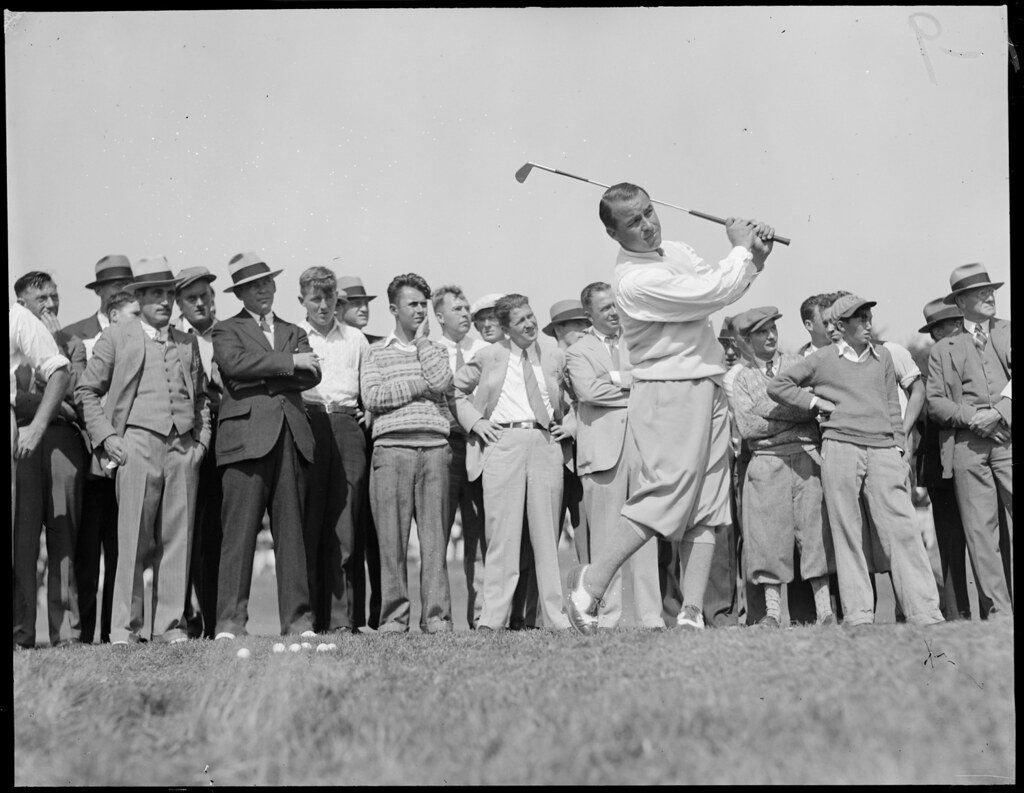 9. Bobby Jones
One of the greatest golfers of all time, Bobby Jones was learning the rudiments of golf since he was 14 years old. And by 20, he won the U.S. Open (1923) in an 18-hole playoff.

In 1930, his Grand Slam performance became Jones' most celebrated achievement when he won three one-up matches in the British Amateur, the British Open by two strokes, and the U.S. Open by a similarly narrow majority. He then went on to win the final leg of the Slam at the U.S. Amateur Championship.

Jones was indeed one of the greatest golfers active during the Golden Age of sports. In fact, he peaked so quickly that soon after, he felt compelled to walk away from competitive golf. At the young age of 28, he had conquered virtually every available competition, an accomplishment no player has yet to fill at this age.

His passions for golf remained throughout later years, as he helped organize what would later be known as the Augusta National Golf Club and The Masters.
Statistics
Grand Slam winner, 1930 (the U.S. and British Opens and U.S. and British Amateurs)
31 majors (13 wins, finished in the top ten 27 times
Founder of The Masters and Augusta National Golf Club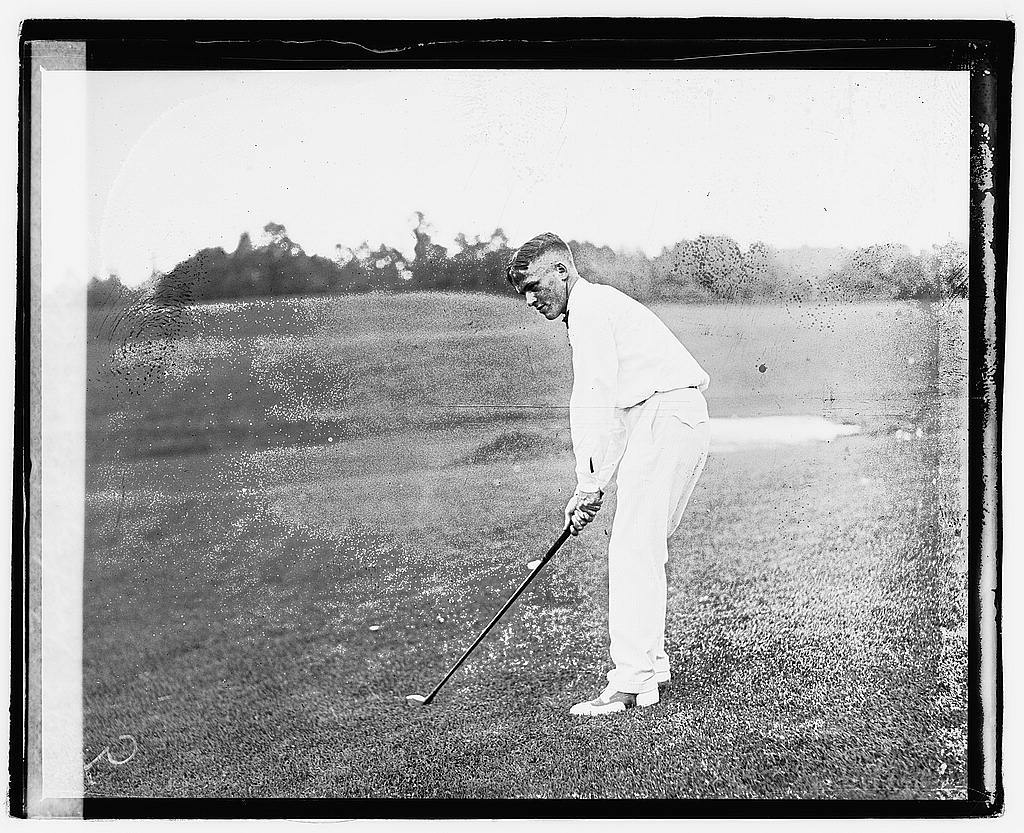 8. Tom Watson
Coming in at number 8 in our top 10 best golfers is Kansas native Tom Watson, who dominated the world of golf during most of the 1970s. Throughout that time, he won eight majors that included five Open Championships and two at golf's oldest tournament, the British Open.

One of his most memorable stand-offs was against Jack Nicklaus in the 1977 British Open, where Watson won 65 out of 65 shots ahead of Nicklaus' 65 out of 66.

Through 1975 and 1988, Watson garnered two wins, three runner-ups, and 12 top-ten finishes at the Masters. He also played Niklaus again in the 1982 U.S. Open, which set the scene for one of golf history's greatest shots – his two-shot win that ended on the 71st hole.

In 2009, his love for the sport led him to the British Open again, but this time as a 59-year-old elder statesman. While he didn't win the tournament, his heart for the sport is enough to be appreciated.
Statistics
39 career PGA Tour wins, with eight major championships
5 British Open wins
6-time PGA Tour Player of the Year
Made at least one cut every year from 1971–2007, a 37 years streak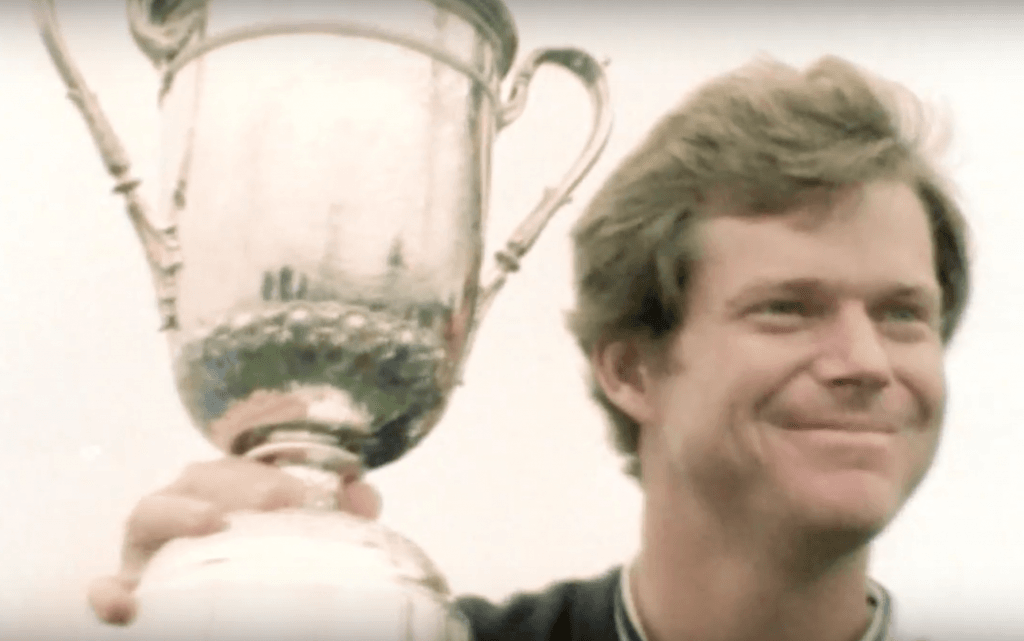 7. Gary Player
Gary Player, commonly known as 'The Black Knight' due to his fondness for black clothing, was a South African-born golfer. He accumulated nine major victories that include three Masters and three Open Championship wins.

Arguably the greatest non-American golfer in history, he's the first to complete his Grand Slam career and win 165 total victories on six different continents over 60 years. He's also one of only four players – Jack Nicklaus, Tiger Woods, and Nick Faldo – to win the Masters and the British Open three times each.

His most outstanding play to date took place at the final round of the Masters at Augusta in 1978, when at 42 years old, Player won with a final-round 64. The win remains coveted as the greatest final-round Masters performance in history until Jack Nicklaus claimed his sixth Master's title in 1986.
Statistics
One of 5 players to own a career Grand Slam.
One of 4 players to win the Masters and British Open three times each.
Winner of the PGA or Senior Tours in a record five decades — the 1950sto 1990s.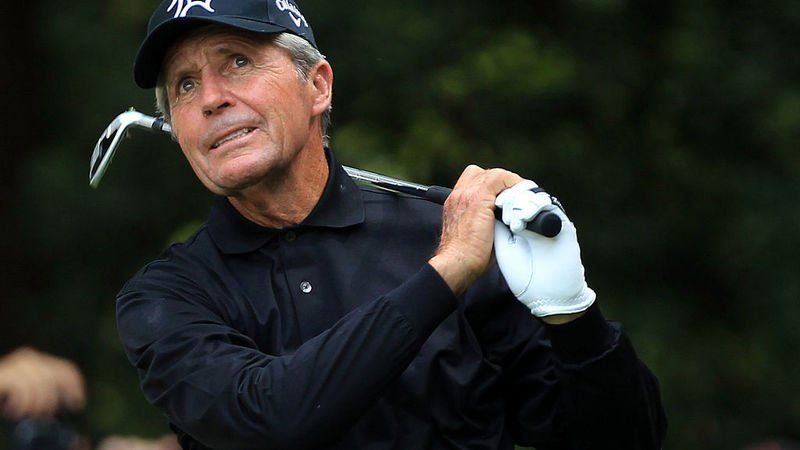 6. Arnold Palmer
While Arnold Palmer hasn't garnered quite as many wins as the other golfers on our list, what he lacks in accolades he makes up for in ubiquity. One of the most popular golfers of all time, Palmer's presence in the golf world was largely responsible for its growing popularity during the 1950s and 1960s. His "Arnie Army" would travel far and wide just to see him play.

He did win an impressive seven majors that include four Masters. And in 1960, with what is known to be the most remarkable comeback in U.S. Open history, he broke his seven-stroke deficit with a final-round 65.

He never won the PGA Championship or got to complete the Grand Slam, but his popularity among golf lovers and non-golf lovers alike remains to this day. Winning a tournament in Canada of all places in 1980, he also helped bring awareness to the sport to our friends north of the border.
Statistics
winner 60 PGA Tours
winner of 7 Major Championships
4-time PGA Tour money champ
1st millionaire in the PGA Tour
at least one victory every year for 15 consecutive years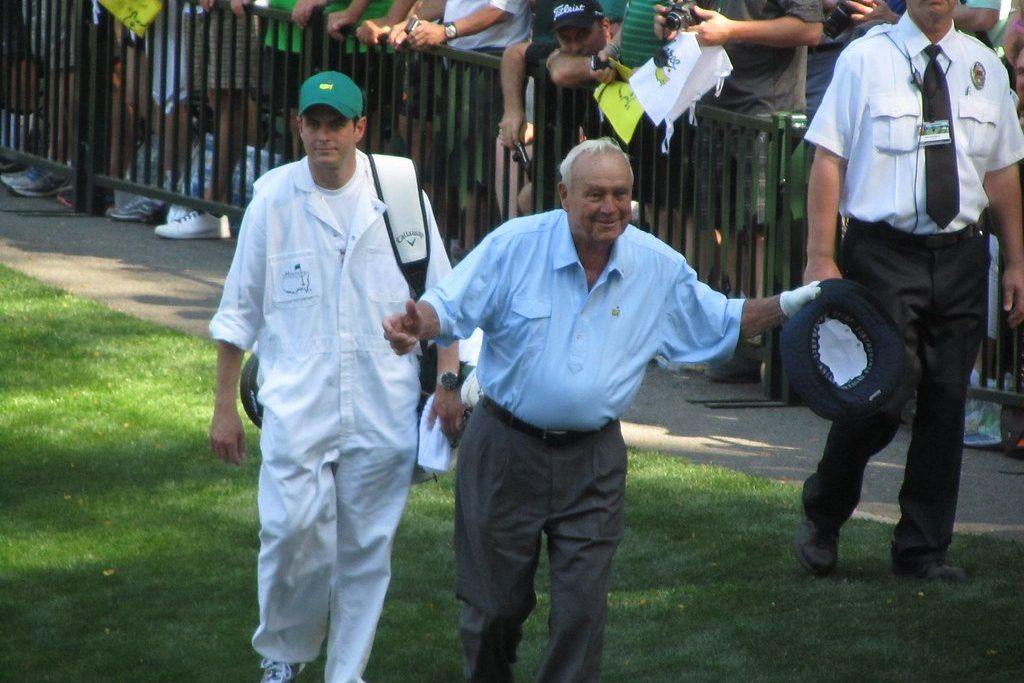 5. Walter Hagen
Coming in at number 5 on our greatest golfers of all time list is New Yorker Walter Hagen. Hagen was a show-stopping golfer and one of the first to successfully tour professionally, adding a layer of credibility and prestige to the growing sport. He made history in 1922 when he became the first-ever U.S.-born golfer to win the British Open.

Throughout his career, he won 11 major championships, two U.S. Opens, four British Opens, and five PGAs, as well as five Western Opens while they were still considered a major. His wins would set a record that would remain unbeatable until 1960.

Hagen was a pioneer of professional golf and rose to prominence in a time when there was little to tell the professionals apart from the country club amateurs. In Britain, golf professionals were not often permitted to utilize clubhouse facilities. During the 1920 British Open, in an attempt to make a point, Hagen had his chauffeur park his car in the club's driveway as he used it as his private dressing room due to being denied entrance to the clubhouse.
Statistics
First U.S. golfer to win the British Open
11 major championships
2 U.S. opens
4 British Opens
5 pages
5 Western Opens
4. Ben Hogan
A disciplined and focused golfer, Hogan is known best for his impeccable technique that led him to be regarded as the greatest shotmaker of all time. From 1938 to 1959, Hogan won 63 professional tournaments even while serving the army and recovering from a car accident that sustained many injuries.

Hogan was revered not only for his wins but for the development of his technique, which he felt was more important than accolades. Still, he is one of only five players to win all Grand Slam events and, in 1953, became the first golfer to win three majors in one year. The majors include the Masters, the U.S. Opens, and the British Opens.

Frustrated with his inability to perform well due to a sprained knee, in 1971, he played his final tournament at the Houston Champions International, forfeiting his position during the first round.
Statistics
64 PGA Tour events, including 9 majors
1 of 5 players to complete a modern career Grand Slam
Only player to win the Masters, the U.S. Open, and the British Open in the same year
Spearheaded equipment manufacturing and golf instruction
3. Sam Snead
By the standard of winnings, Sam Snead could be considered the greatest golfer in history. Having won more golf tournaments than any other player to date, Snead has generated a long and illustrious career. He did so even after fighting in World War I.

He's received seven majors: three Masters, three PGA Championships, and one U.S. Open. He's also won 82 PGA Tour titles, from 1936 to 1965.

So why does Snead only come in at number 3? While it doesn't dismiss his accomplishments in the slightest, having never won the prestigious U.S. Open makes it difficult to grant him a top place on our list.

Snead's golfing standards continue to be employed by professional golf players today, most notably his effortless but mighty swing. Determined to go out with a bang, his final play in 1979 at the Quad Cities Open, he shot 67 and 66, making him the oldest player to win and shoot his own age.
Statistics
82 PGA Tour wins, through 1936 to 1965
7 major championships, including 3 Masters and 3 PGA Championships
Oldest player to win and shoot his age in PGA Tour history
Posted top 10s in majors in 5 different decades
2. Jack Nicklaus
One of the top golfers of all time, runner up Jack Nicklaus is a historical and well-respected figure in professional golf. Not only is he the first golfer to win $2M, but he's also the oldest golf player to win the Masters, which he accomplished at 46 years of age. He was also one of the first few golf players to be inducted into the Hall of Fame in 1974.

Nicklaus is known for the way he employed a strategic awareness to the game of golf, which often led to his victories. He's won 73 PGA tour events that include 18 major championships. He's also managed to place 37 top twos in majors, 56 top fives, and 73 top tens. From 1963 to 1980, Nicklaus accumulated five U.S. Open titles and acquired six Masters by 1986.

Nicklaus has also been known to beat even the most revered golf players, such as in the 1986 Masters showdown against Ballesteros, Norman, and Kite, despite all being at the peak of their success. His performance in the tournament, where he won his sixth Master, is widely considered one of the greatest sporting moments.
Statistics
Winner of 73 PGA Tour events, including 18 major championships
Winner of a record 6 Masters
Finished in the top 10 a record 73 times, in top 5 in majors a record 56 times, in the top 2 a record 37 times
Posted lowest scoring average on Tour 8 times
Won PGA Tour money title 8 times
Won at least two PGA Tour events in 17 consecutive seasons (1962-1978)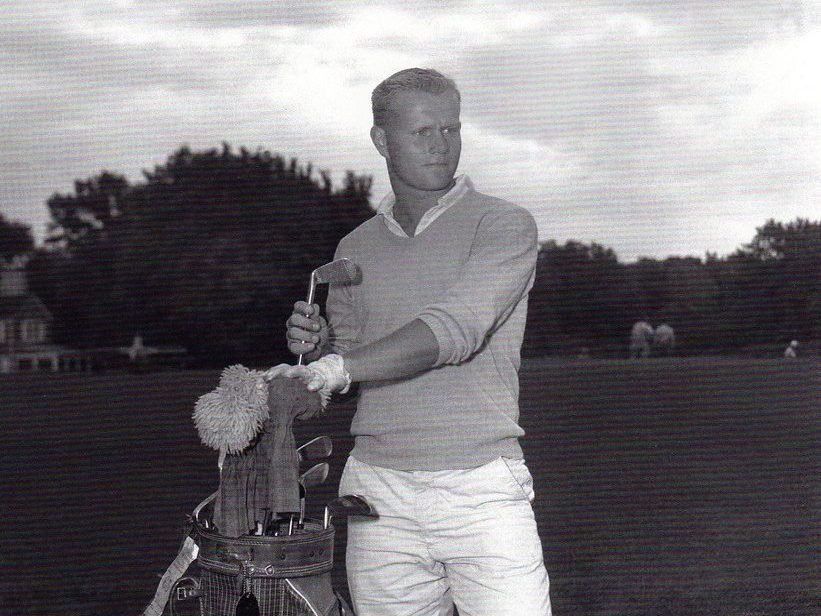 1. Tiger Woods
So who is the greatest golfer ever? The emergence of Tiger Woods into the world of professional golf led to an unexpected string of victories and, ultimately, the title of the greatest golfer of all time. Even those unfamiliar with the world of golf can easily recognize the name, Tiger Woods. He's been the top-ranking player in the world for the most consecutive and the total number of weeks in golf history. In the putting category he's been listed one of the greatest golfers of all time by Golf Digest.

The youngest Grand Slam winner ever, Woods has also been awarded the PGA Player of the Year 11 times, not to mention 82 PGA tour wins, 39 European tournaments, and the list goes on. In his first-ever Master's performance in 1997, he made a record 18-under par total. The game shook the golf world and quickly moved professional golf into a mainstream sport, with ratings jumping from 9.2 to 14.1.

Since then, Woods has gone on to play the sport unlike its ever been played by any other player. He took a break from the game after sustaining a back injury. He is currently undergoing rehabilitation and plans to continue his legacy through competitions and tournaments.
Statistics
82 PGA Tour wins, tied with Sam Snead for most all-time
15 major championships, 2nd all-time
Only player ever to win 4 consecutive majors
Lowest scoring average in PGA Tour history
Scoring average of 67.79 in 2000, the lowest single-season average in Tour history
PGA Tour Player of the Year a record ten times
Summary
So, there you have it. The greatest golfers of all time are not all one in the same.

While some players here have garnered an endless list of victories and trophies, others made an impression with simply their impeccable technique or perhaps even one memorable play that shook the golf world and made history.